PRP Therapy in Australia
Control your hair loss with AHTI's platelet rich plasma (PRP) treatments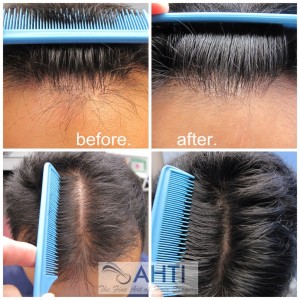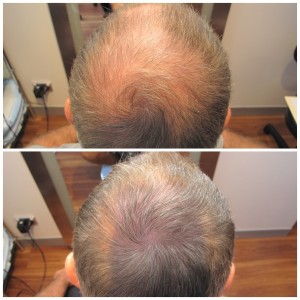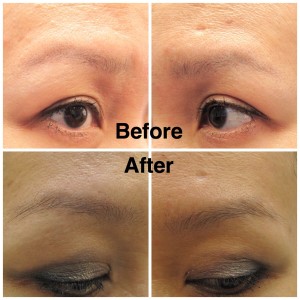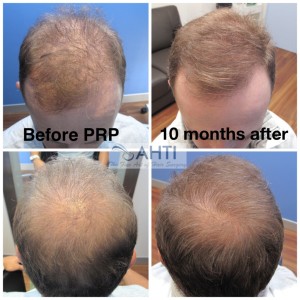 Is your hair loss causing you to lose sleep, or lose your self-confidence? Take control of the situation today with our PRP therapy and see possible results in 6 to 9 months!
Many men and women across Australia have turned to this hair restoration program. Read on to learn more about our specialist procedure below.
What is PRP?
PRP is made from a small sample of your own blood, which is composed of platelets and plasma. Platelets are tiny cells that are partially responsible for causing blood to clot. The process involves concentrating the platelets found in the blood sample.
These concentrated platelets contain significant growth and wound healing factors, which are natural components of your body that may enhance and accelerate your body's normal healing process. While a normal concentration of platelets circulating in your blood is 200,000 per micro litre, the platelet count in PRP can exceed 2 million platelets per micro litre.
PRP is the only available product that contains elevated levels of all your naturally occurring growth factors, making it extremely useful for men and women's hair restoration programs.
Is this a new technology?
No, it is not. Clinically, PRP has been used for over two decades. Leading clinicians in specialties such as dentistry, ear nose and throat (ENT), facial reconstructive surgery, orthopedics, cardiovascular, plastic surgery, and wound healing routinely use PRP to deliver a cocktail of natural bioactive growth factors. It has since made its way into the hair restoration industry in Australia.
Is the PRP procedure in Australia safe?
Yes, it is. As the blood sample is made up of your own blood, it is therefore protected from the risk of disease transmission. The procedure will also be performed by our doctors, to ensure that it goes smoothly.
What are growth factors?
A growth factor is basically a natural occurring substance that can stimulate growth at a cellular level. Platelets contain potent growth factors necessary to begin tissue repair and regeneration at the wound site. Growth factors derived from platelets initiate connective tissue healing, bone regeneration and repair, promote development of new blood vessels and stimulate the wound healing process.
How is PRP made?
The surgeon draws approximately 20-50cc of your blood and places it in a specialized centrifuge that spins and automatically separates the red blood cells from the plasma. The plasma is then further centrifuged to concentrate the autologous platelets and hence your natural growth factors.
Uses of PRP in hair transplants and growth
The potential benefits of PRP include the preservation and enhancement of hair follicle viability during and after hair transplantation. It can also promote and enhance tissue repair and healing after hair transplantation. Plus, PRP can reinvigorate dormant hair follicles thus stimulating hair growth.
You can also arrange for a consultation to talk to Dr Chan to better understand the procedures of the surgery.
To learn more about the PRP procedure and its costs in Australia, call us on 02 88808626 and book a consultation with our leading clinic today!
How much will PRP cost me?
Each PRP therapy session will cost $800. It usually requires 3 to 6 sessions one month apart initially. Result should start to be evident at around 6 to 9 months. Result varies between individual. Thereafter, result is usually maintained at one session every 6 to 10 month.
For more information on the PRP therapy, costs, or any other hair loss treatments we offer in Australia, contact us on 02 88808626 today.
PRP Article from Cosmetic Surgery & Beauty magazine