Grow your eyebrows in the perfect shape, without pencilling, tattoos or plucking.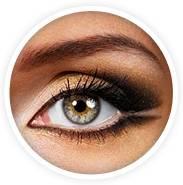 Design the growth, shape and width of the eyebrows you want
If your eyebrows have been damaged… overplucked… or if you've never been able to grow eyebrows the way you want it, you can now grow the eyebrows you've always desired thanks to the Australasian Hair Transplant Institute's eyebrow therapy.
Choose the angle and direction your eyebrows grow in – giving them a natural look
Chief surgeon, Dr Johnathan Chan is the first to specialise in hairline and eyebrow transplant in Australia. He has developed his own Ultra Fine Follicular Unit Extraction (FUE) hair transplant procedure that allows him to match fine hair from your scalp or body to your eyebrows.
Using specialised implanters, he implants them into your brow at the perfect angle and in the right direction to give you natural looking eyebrows. Dr Chan's procedure has an improved graft survival rate and cosmetic result than the standard FUE.
The most common way to repair, reshape and regrow eyebrows
Hair transplantation is one of the most common solution for restoring eyebrows today. And using Dr Chan's  Ultra Fine FUE method, you can transplant and grow your eyebrows follicle by follicle.
After the procedure
These new follicles may require occasional trimming or "training" with eyebrow gel or wax, because these hairs will continue to grow to their natural length. For instance, if they come from your leg, they will grow to natural leg hair length, which may be 4 times longer than a "normal" eyebrow.
But once the new follicles settle in the site – and you are completely recovered from the transplant procedure – the hair will grow permanently in the perfect angle and direction.
Design your perfect eyebrow
Your eyebrows are one of the most important features of your face. In the right shape, they can create a perfect frame for the face. They are also functional.
They keep moisture out of your eyes. They shade the eyes from sunlight. And they prevent dandruff and other small objects from falling into the eyes.
And they are also important in helping communicate your thoughts and expressions. In the wrong shape, they can sometimes cause what is known as a 'false facial expression', for example, looking angry or scared without meaning to.
The 6 Basic Face Shapes – what kind of eyebrows will best suit you?
Knowing your face shape is the first step to helping you create the eyebrows that will make you look your best.
To find your facial shape…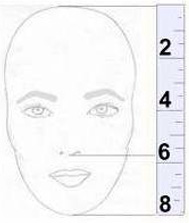 Measure the length of your face with a ruler. (In this case the total length of face is 8 inches)
Divide the total length by 3. (8 ÷ 3 = 22/3 or 2.67)
Measure the length from the bottom of your nose to the bottom of your chin. (In this case 21/3)
If the length of nose-chin (21/3) is longer than the length of overall 1/3 length (22/3), chances are you have a long face.
If the length of nose-chin is less than the length of overall 1/3 length, chances are you have a round face.
If the length of nose-chin is equal to the overall 1/3 length, chances are you have an oval face.
Oval Face Shape
The perfect brow shape for your face may be the soft angled shape – this is in fact the most popular stencil shape, and works beautifully with an oval face shape.
Heart Face Shape
A low arched-round brow will create a natural look for your face. A high arch round brow adds (possibly needed) length if you have a shorter heart face shape.
Long Face Shape
A flat brow shape will bring balance to your face.
Round Face Shape
A high arched brow will give your face a longer, thinner appearance.
Square Face Shape
Angled brows will bring balance to your face. Also consider the curved brow shape, suggested for diamond face shapes. The curves soften stronger features.
Diamond Face Shape
The curved brow shape will help you achieve this look. Notice that many beautiful celebrities that have a diamond face shape also have curved brows.
For more information